Keywords:
ChemDraw Word, Biovia Draw Edit
Solution:
First, please try reinstalling Biovia Draw and selecting "No" to the question in the screenshot below when it appears.
"Do you want to associate CDX files and ChemDraw objects embedded in MS Office applications with Biovia Draw?"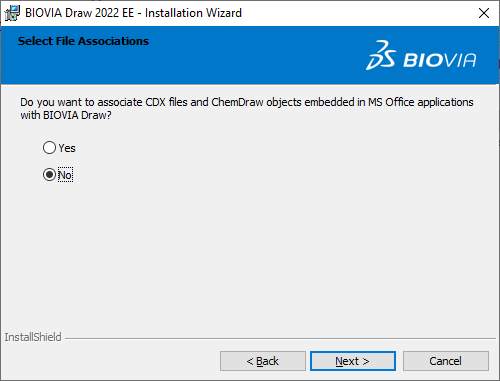 Then finish the Biovia Draw reinstall and try clicking on the structure in Word again.


If this fails, then please try the following steps;


1. Check if the file association is correct. You can check the default file association here. https://www.lifewire.com/how-to-change-file-associations-in-windows-2624477

2. If the file association is already correct, reinstall ChemDraw and see if that corrects the problem.

3. When reinstalling ChemDraw, make sure you right-click the installation file and select "Run as Administrator" to ensure all the registry settings are stored correctly.

4. If the issue continues, you may want to consider removing Biovia Draw to test if the association in MS Office goes back to normal.

5. If Biovia Draw is required for your work, then you can reinstall it again once the issue with ChemDraw is corrected.